Coronavirus (COVID-19)
Novel coronavirus (COVID-19) is a new strain of coronavirus first identified in Wuhan City, China. It is a new respiratory illness which affects lungs and airways that has not previously been seen in humans. Generally, COVID-19 can cause more severe symptoms in people with weakened immune systems, older people, and those with long-term conditions like diabetes, cancer and chronic lung disease.
The latest information and advice on COVID-19 can be found here.
What to do if you have COVID-19 symptoms
Please stay at home if you have any of the following symptoms:
a high temperature - you feel hot to touch on your chest or back (you do not need to measure your temperature)
a new, continuous cough - you have been coughing a lot for more than an hour, or 3 or more coughing episodes in 24 hours (if you usually have a cough, it may be worse than usual)
loss or change to your sense of smell or taste – this means you've noticed you cannot smell or taste anything, or things smell or taste different to normal
To protect others, stay indoors and avoid contact with other people (as you would with the flu):
DO NOT

go to a GP surgery, pharmacy or hospital
DO NOT leave your house, for example to go for a walk, to school or public places

DO NOT

have visitors in your home (ask people to leave deliveries outside)
you feel you cannot cope with your symptoms at home
your condition gets worse
You DO NOT need to contact 111 to tell them you're staying at home.
Obtaining an isolation note
From Friday 20 March onwards, those who have COVID-19 or are advised to self-isolate will be able to obtain an "isolation note" by visiting NHS 111 online and completing an online form, rather than visiting a doctor. For COVID-19 cases this replaces the usual need to provide a "fit note" to your employer after seven days of sickness absence. Isolation notes will also be accepted by Jobcentre Plus as evidence of your inability to attend.
If you have to stay at home but feel well enough to work, ask your employer if you can work from home. If you can work from home, you will NOT need an isolation note.
Please DO NOT go to a GP surgery.
Advice for people at high risk from COVID-19
If you're at high risk of getting seriously ill from COVID-19, there are extra things you should do to avoid catching it.
These include:
not leaving your home – you should not go out to do shopping, visit friends or family, or attend any gatherings
avoiding close contact with other people in your home as much as possible - stay at least 2 metres (3 steps) away
Ask friends, family or neighbours to pick up shopping and medicines for you. They should leave them outside your door.
If you need help getting deliveries of essential supplies like food, you can register here to get coronavirus support - you can also register on behalf of someone else.
Who is at high risk from COVID-19?
You may be at high risk from COVID-19 if you:
have had an organ transplant
are having certain types of cancer treatment
have blood or bone marrow cancer, such as leukaemia
have a severe lung condition, such as cystic fibrosis or severe asthma
have a condition that makes you much more likely to get infections
are taking medicine that weakens your immune system
are pregnant and have a serious heart condition
Information: If you're at high risk, you will be contacted by the NHS by Sunday 29 March 2020. Please

DO NOT

contact your GP or healthcare team at this stage – wait to be contacted.
Help the NHS respond to COVID-19
This will help the NHS plan its response to COVID-19 by showing where the virus is spreading and how it affects people.
Social distancing: what you need to do
To stop the spread of coronavirus (COVID-19), you should try to avoid close contact with anyone you do not live with. This is called social distancing.
It's very important that you stay at home as much as possible.
There are only a few specific reasons to leave your home, including:
for work – but only where this is absolutely necessary i.e. you cannot work from home.
going to shops – for example food and medicine,  or to collect things you've ordered.
to exercise or spend time outdoors – from 13th May, people in England can spend more time outdoors and enjoy a wider range of activities for any length of time, subject to social distancing rules.
for any medical reason – for example, to visit a pharmacy, to donate blood, to avoid or escape risk of injury or harm, to provide care for and/or help a vulnerable person.
You must ensure that you are practising social distancing if you do go outside - staying 2 metres (3 steps) away from anyone outside of your household.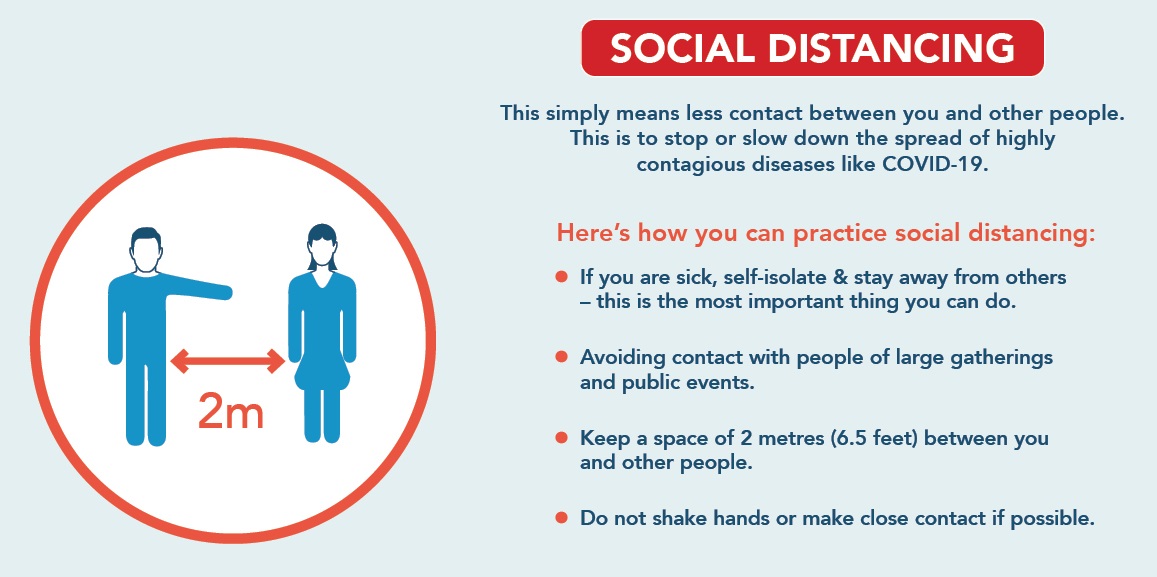 How to avoid catching & spreading COVID-19
Everyone MUST stay at home to stop COVID-19 spreading.
Like the common cold, the COVID-19 infection usually occurs through close contact with a person with COVID-19 Via cough and sneezes or hand contact. A person can also catch the virus by touching contaminated surfaces if they do not wash their hands. It's very unlikely it can be spread through things like packages or food.
Everyone is being reminded to follow Public Health England advice to: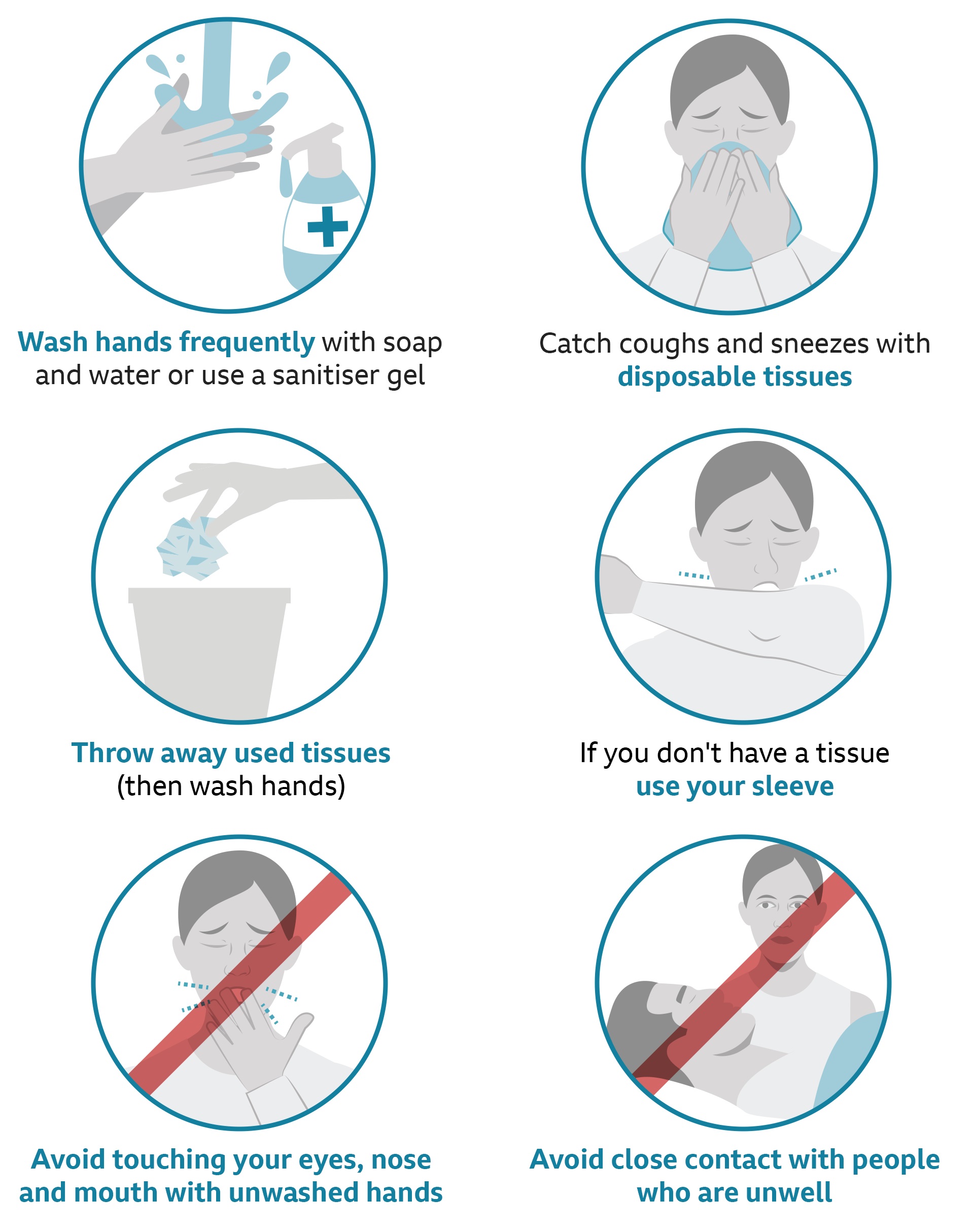 Treatment for COVID-19
There is no specific treatment for COVID-19. Antibiotics do not help, as they do not work against viruses.
You'll need to stay in isolation away from other people until you've recovered.
Ibuprofen guidance
There is currently no strong evidence that ibuprofen can make COVID-19 worse.
But until we have more information, take paracetamol to treat the symptoms of COVID-19, unless your doctor has told you paracetamol is not suitable for you.
If you are already taking ibuprofen or another non-steroidal anti-inflammatory (NSAID) on the advice of a doctor (e.g. for arthritis), do not stop taking it without checking first.
Looking after your health and wellbeing
To help yourself stay well while you're at home:
stay in touch with family and friends over the phone or on social media
try to keep yourself busy – you could try activities like cooking, reading, online learning and watching films
do light exercise at home, or outside once a day
drink plenty of water to stay hydrated
For more advice, see:
Advice for parents during COVID-19
Advice for pregnant women during COVID-19
What to do if you need medical help for another reason
If you need medical help not related to COVID-19, DO NOT go to a GP surgery, pharmacy or hospital.
For health information and advice, use the NHS website, call you GP surgery, or use your GP surgery website.
For urgent medical help, use the NHS 111 online service, or call 111 if you're unable to get help online.
For life-threatening emergencies, call 999 for an ambulance.
Further information
Last updated: May 20, 2020
Published: Jan 29, 2020